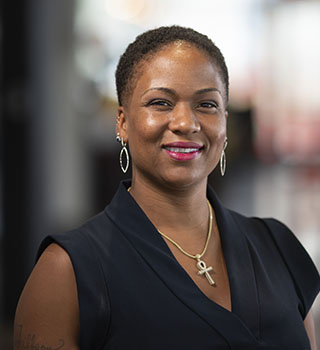 Tiffany Lloyd
Director of Women's Health & Empowerment
Tiffany Lloyd serves as Director of Women's Health and Empowerment at the Allyn Foundation. A Syracuse native, Tiffany served in the US military reserves for ten years, holds a bachelor's degree in psychology, and recently earned a master's in organizational leadership. A lover of music, astrology, and Netflix documentaries, Tiffany lives in Syracuse with her two children.
As Director of Women's Health and Empowerment, Tiffany leads strategies aimed at reducing unintended pregnancy. She co-created Layla (www.Laylasgotyou.com), a chatbot for women of color, designed to share culturally tailored and culturally relevant, sexual health information, on digital platforms. Tiffany is a reproductive health Convener and is committed to building our local capacity to address the reproductive needs of all individuals in our community. She takes special interest in building and supporting dynamic spaces that support and empower Black and Latina women. A champion of reproductive wellness, Tiffany leads the local component of a national Reproductive Wellness campaign, called Power to Decide, where she works in partnership to build a strong base of cross-sector stakeholders committed to developing practices and processes that reflect the principles of reproductive equity and justice.
​Previously, Tiffany served in various roles at Syracuse Community Connections (SCC) where, as a teen, she participated in various after-school activities and programs. She spent several years with Family Planning Service, a program of SCC. In that role she provided classroom and community education and led a team of health educators in the implementation of a unique evidence-based sexual health program for teens and young adults. Subsequently, Tiffany served as Director of youth and senior programs at Dunbar Center, where she managed all aspects of program operations. Just prior to joining the Allyn Foundation, Tiffany served as a Campaign Manager at Public Good Projects, a nationally recognized digital media and health communications firm, where she coordinated and managed a digital, social norms campaign. Additionally, Tiffany's prior work encompasses sexual health counseling and outreach, program design & evaluation, content design, and social media management. Tiffany considers the 'roots and wings' of wellness to be comprehensive, culturally-tailored and culturally relevant, education and capacity-building for individuals and communities.
​Tiffany has several professional affiliations where she donates her time. She currently serves on the board of Planned Parenthood, and is an Advisor for Undetected, a digital health innovation focused on creating virtual sexual health clinics. She is an active member of the City of Syracuse's Risk Analysis Committee, and Syracuse Cooperative Credit Union's Credit Committee. Formerly, she served as a facilitator for a regional sexual health training institute for educators, called NATISHE. Tiffany is a lifelong learner who is committed to personal and professional development. She is a recent graduate of Nourishing Tomorrow's Leaders (NTL), and is a member of the 2021 cohort of CNY Community Foundation's LeadUp program.