Economic Development & Opportunity
Working to disrupt concentrated poverty in targeted Syracuse neighborhoods by empowering residents to reach their full potential, while contributing to the wellbeing of their families and the revitalization of their neighborhoods.
As the Greater Syracuse region begins to experience economic growth, rates of poverty, particularly in inner city neighborhoods, are also rising sharply. This dynamic leaves individuals and families struggling at the margins of our community, while undermining the long-term health of our region. When it comes to combatting poverty, there are no easy answers. However, we must recognize that poverty is ultimately an economic condition, which requires economic solutions, first and foremost. We also acknowledge that poverty is not evenly distributed; it exists in concentrated geographies, where vicious cycles are reinforced over years and generations. We, therefore, must pursue solutions that concentrate efforts and resources in these places. Most importantly, we recognize that poverty is exemplified by countless individuals who have the talent and motivation to succeed but struggle to access opportunity and find the footing they need to succeed over time.
At the Allyn Family Foundation, we are pairing philanthropic support with strong, proactive partnerships, bringing together residents, community organizations, business, and government towards three common goals: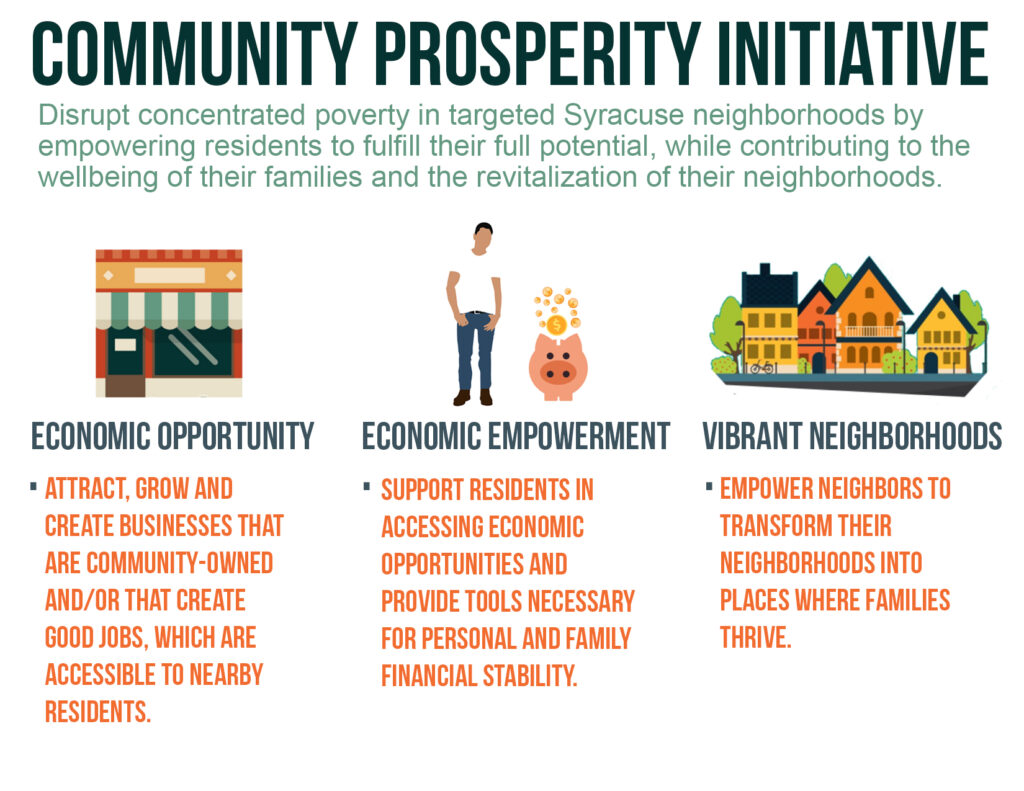 ECONOMIC DEVELOPMENT
As part of the work of economic development, the Allyn Family Foundation is working collaboratively to empower individuals and furthering prosperity in the Syracuse community by providing career pathways to low-income individuals while fulfilling employment needs of local employers. One long-term collaboration that exemplifies this is Work Train. Work Train, spearheaded by CenterState CEO, fosters shared prosperity in Central New York by creating career opportunities for individuals who are unemployed and underemployed, while helping companies build strong workforces. They serve as a workforce intermediary and strategist, convening partnerships that drive solutions to persistent workforce problems.
The Allyn Family Foundation is also partnering with the City of Syracuse to help embed systemic financial empowerment programs into city services to improve individual and family financial stability. This is being done through the Financial Empowerment Center (FEC) which focuses on asset building, banking access, consumer financial protection, and financial education and counseling. The FEC offers a free service to all residents in and around the city of Syracuse, providing professional, one-to-one financial counseling. The FEC identifies the individual's financial stresses and their goals and the work collaboratively to create tangible next steps.
ECONOMIC OPPORTUNITY
Likewise, the Allyn Family Foundation is focused on creating economic opportunity for low-income residents by developing a multi-dimensional community economic development platform that aggressively drives growth that is inclusive, and intentionally assists black and brown, and women-owned businesses. The central project that embodies this is the Salt City Market, located at the intersection of 3 neighborhoods in Syracuse, New York. The project features 26 mixed-income apartments, office space for the Allyn Foundation and other not-for-profit partners, and a first-floor food hall open to the public that further builds on the momentum of downtown, while creating economic opportunities for start-up entrepreneurs coming out of our most economically challenged communities.
All of these efforts aim at building generational wealth for individuals, and it also aims to build vibrancy and prosperity in neighborhoods and communities. By assisting entrepreneurs to bring their businesses to fruition, more and more commercial spaces will become occupied in and around our communities. By renovating and reoccupying previously vacant spaces, our communities become more vibrant, safe, and productive. As such, the Allyn Foundation assists not-for-profit community development and benevolent real estate developers to reinvigorate local real estate.
One example highlighting this work is the Ponchito's building on Syracuse's Near Westside. Previously a vacant pawnshop, the Allyn Foundation supported the efforts by Home Headquarters to convert it into a mixed-use building with 3 apartments on the second floor and a Mexican taqueria on the first floor known as Ponchito's. In doing so, the troubled vacant property has now become a beacon of hope on a busy intersection where a local restaurant is thriving, it features a beautiful mural highlighting the cultural richness of the community, and the neighborhood now has a much needed restaurant.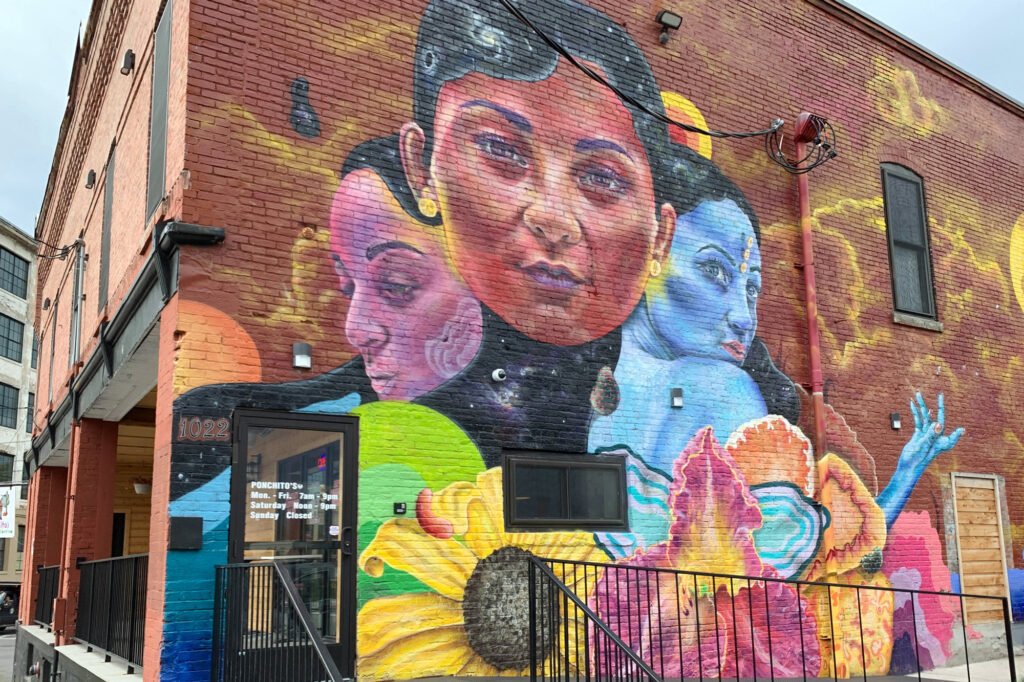 SUMMER YOUTH EMPLOYMENT
Similar to supporting economic opportunities for adults, the Allyn Foundation is supporting efforts to provide youth employment opportunities around the City of Syracuse. In 2020, NYS delayed funding to Onondaga County for their summer youth employment program. Opportunities for youth to be employed during the summer months is critical to build work/life skills, provide income, prevent/deter crime, instill work habits, build social skills, and keep youth engaged in meaningful activities. Youth have been especially adversely affected by the Covid pandemic. In response to the delay in funding, The Allyn Foundation and other philanthropic partners and 30 youth serving organizations came together to pilot an educational and career development program. The program, known as the Bea Gonzalez Summer Fellows Program, provided a 4-week educational program to 847 youth in the City of Syracuse and provided each youth with a stipend of $599 upon completion of the program.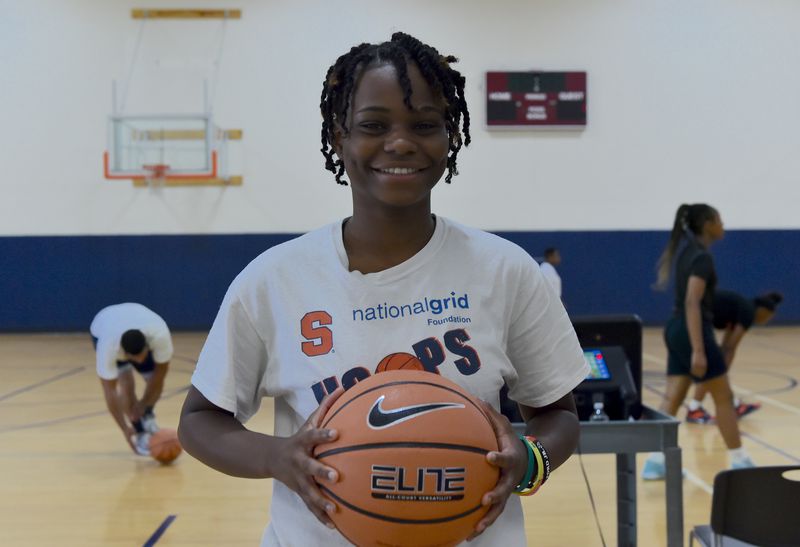 In 2021, the City of Syracuse stepped forward and committed ARPA funding to continue the Summer Fellows program. The Allyn Family Foundation partnered with 25 youth serving organizations to provide the program to 793 City of Syracuse youth. Each youth organization provided programming related to financial literacy, work readiness skills, mental health/social emotional behavior, self-care and health/wellness and career exploration. Youth ages 10-18 were eligible to participate in the 4–6 week program. Each youth participant received a stipend between $299 and $599 upon completion of the program.
The City of Syracuse has agreed to continue funding the Summer Fellows Program in 2022.