The folks behind Salt City Market take another giant step, buying iconic downtown building
By Tim Knauss | tknauss@syracuse.com
Read the article on Syracuse.com here.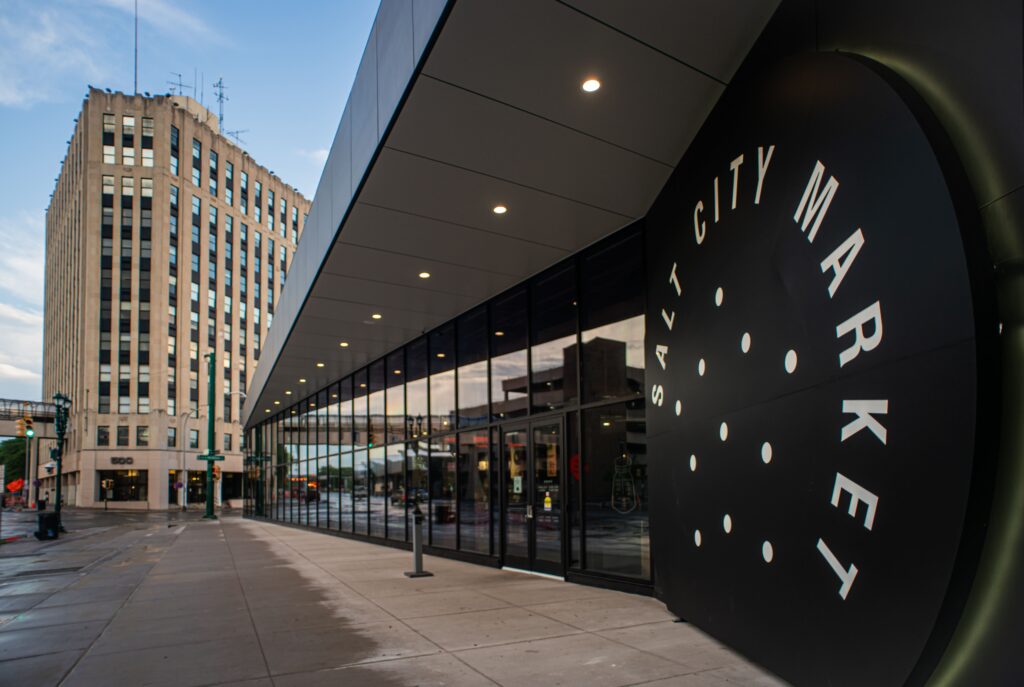 Syracuse, N.Y. – The group that created the successful Salt City Market in downtown Syracuse is now undertaking a major housing development.
An affiliate of the Allyn Family Foundation has bought an iconic 12-story building across the street from Salt City Market with plans to develop 150 mixed-income apartments.
SEED Syracuse, the Allyn foundation affiliate, paid $8.2 million Friday for the high-rise building at 500 S. Salina St. You know it as the "Chimes Building."
The purchase doubles down on the foundation's high-impact efforts to re-energize the southern terminus of downtown and to spread out development along struggling business corridors to the south and west.
Renovating the Chimes Building, at an estimated cost of $35 million to $40 million, also will provide much-needed housing for a mix of tenants, said Meg O'Connell, executive director of the Allyn Family Foundation.
"We've seen how just the Salt City Market has revitalized this neighborhood,'' O'Connell said. "How do you continue to build on that? You continue the revitalization down both West Onondaga and Salina Street."
City officials are ecstatic about the plan.
Michael Collins, commissioner of neighborhood and business development, said a revived Chimes Building will complement the Symphony Place apartment project under construction across the street and the anticipated construction of the STEAM school one block to the south.
"I'm super-excited,'' Collins said.
SEED Syracuse – the acronym stands for Social Equity Economic Development – will be an "altruistic developer'' to take on beneficial projects that might not attract for-profit developers, O'Connell said. That includes building affordable apartments in the downtown area, where rents are typically too high for low- or moderate-income tenants.
"We know that mixed income (housing) is really critical,'' O'Connell said. "We don't have a way to get really good-quality, affordable housing downtown. And there's such a huge demand for it."
Salt City Market opened in 2021 on the site of a former parking lot in what was a depressed part of downtown. The $26 million building includes a popular ground-floor international food hall, a café/bar, upstairs offices and 26 mixed-income apartments on the top two floors.
Rents for the one- and two-bedroom apartments range from $823 to as much as $1,400 a month depending on whether the tenant pays market-rate or below-market, O'Connell said.
Influenced in part by the 600-person waiting list for apartments at Salt City Market, SEED Syracuse is committed to developing 150 apartments on the upper 10 floors of the Chimes Building, O'Connell said.
Four floors of the building already contain 47 apartments, 31 of which are occupied. SEED Syracuse may reconfigure those units, O'Connell said. SEED Syracuse will honor the leases of current tenants but has not yet determined whether the leases will be renewed, she said.
New apartments — likely a mix of one- and two-bedroom units — will be built on the remaining six floors, which have been gutted but remain unfinished, O'Connell said.
The building now has two ground-floor retail tenants – a pizza shop and a cell phone store. SEED Syracuse will likely add retail space and will renovate second-floor space for offices or meeting facilities, O'Connell said.
The foundation has not yet finalized how the project will be financed. They have been approved for a line of credit to finance renovations but will also look to the city, county and state as potential sources of funding, O'Connell said. The Chimes Building is part of the Salina Street commercial district on the National Register of Historic Places, so SEED Syracuse also hopes to take advantage of historic tax credits, she said.
SEED Syracuse tentatively plans to complete the renovations in 18 months, O'Connell said.
The Chimes Building opened in 1929 as one of Syracuse's most visible office buildings.
It was designed by Shreve, Lamb & Harmon of New York City, and Frederick O'Connor of Syracuse, according to documents filed with the National Register. (Shreve, Lamb & Harmon also designed the Empire State Building in New York City, which opened two years later and features some of the same Art Deco design elements.)
The building originally featured tubular chimes on the roof that rang every 15 minutes and played a tune every hour. The chimes were removed sometime after World War II, but the name of the building stuck despite attempts by different owners to change it.h
"We're going to call it Chimes,'' O'Connell said. The property will be held in the name of a limited liability company, Chimes Syracuse.
Two previous owners had begun converting office space into apartments, but the project until now has never been completed.
The Allyn Family Foundation, which subsidizes Salt City Market, financed the purchase of the Chimes Building. When the Chimes project is completed, the foundation hopes the building will earn enough revenue to cover all its costs, O'Connell said.
Common Councilor Pat Hogan, who chairs the economic development committee, said the Chimes Building is an "iconic'' anchor at the southern end of downtown. Through this development and others, the Allyn Family Foundation is "doing really good things,'' Hogan said.