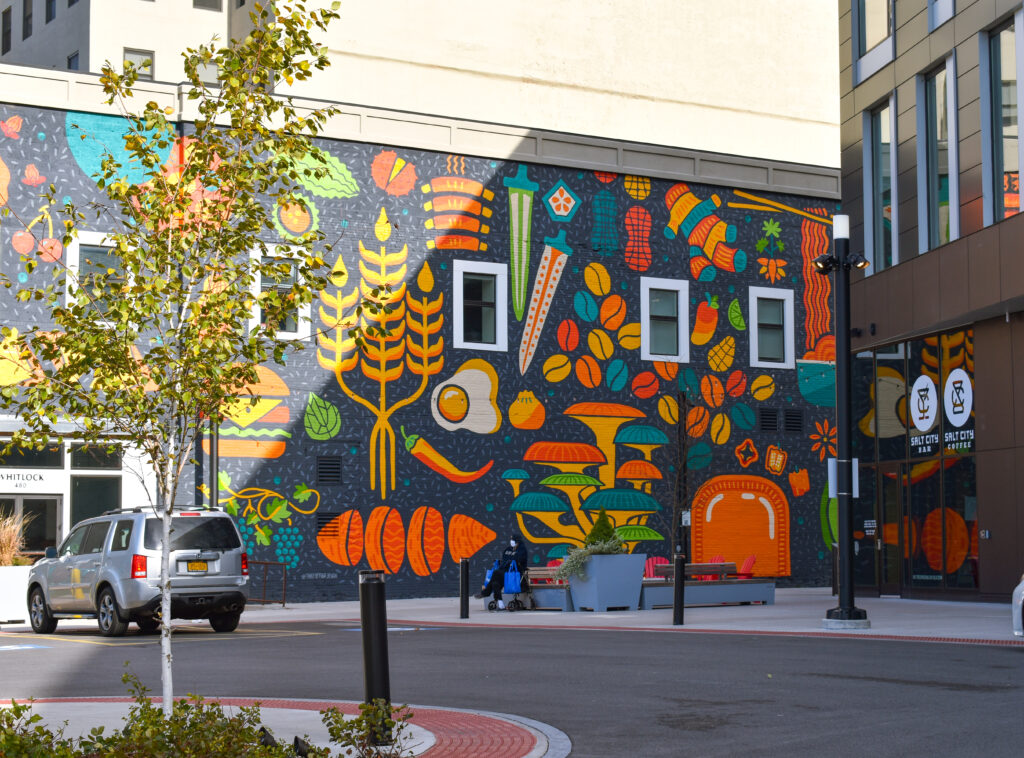 By: David Sandman, New York Health Foundation President & CEO
Read the original blog here.
---

I was recently in Syracuse with the New York Health Foundation's Board of Directors and staff. Our visit was an opportunity to learn more about the region's health-related challenges and opportunities, meet with local grantees and partners, and understand more about the area's history and culture. We received a warm welcome from local leaders; our trip included time with the Volunteer Lawyers Project of Central New York, ACR Health, the Syracuse-Onondaga Food Systems Alliance (SOFSA), and a site visit to the National Veterans Resource Center at Syracuse University.
A highlight was our visit to Salt City Market, a beautiful food hall, which opened in January 2021. Fun fact: Syracuse owes its nickname, "Salt City," to the salt springs on the southern end of Onondaga Lake that made Syracuse a top salt producer for much of the 19th century.
The Allyn Family Foundation birthed Salt City Market in response to the community's desire for a food hall and public market that would "show off [Syracuse's] hidden culinary gems." It turned a parking lot in a part of downtown plagued by underinvestment into a vibrant, thriving space. In addition to the food hall, the building includes office space and mixed-income apartments. In the planning stages, focus groups and community gatherings gave Syracuse residents a chance to feel connected to and invested in the project.
Today, Salt City Market is home to 10 food vendors, all of them first-time small business owners, and all of them people of color and/or women. The Market represents a wide range of cuisines: Middle Eastern, Burmese, Thai, Jamaican, Ethiopian, Vietnamese, Southern Barbecue, and Soul Food. You can get juices, smoothies, and dessert; a coffee shop turns into a full-service bar in the evenings. The Market is also home to a food co-op, the first full-service grocery store in downtown Syracuse in more than 40 years. And it features a teaching kitchen and a popular community gathering space.
The Market was bustling during our visit: students checking out the food vendors, local office workers on their lunch break, people grabbing a coffee or getting vegetables at the co-op. It attracts about 900–1,000 visitors a day, on average.
But here's what impressed me most: it's much more than a cool place to hang out and get great food. Salt City addresses food insecurity plus other needs; all its operations are thoughtfully designed to advance a mission-oriented social purpose. Here are some examples:
It's of, by, and for the community. The vendors are chosen in part based on community input; the Market hosts "Thursday Try-Outs" where residents can sample potential vendors' food and provide feedback to the Market. The participating vendors match the diversity of the surrounding community and fill a gap in the neighborhood, which previously had very limited food options. And the Market provides educational and employment opportunities for residents. It also has regular programming like live music and family-friendly activities. And like all successful enterprises, it listens to its customers. About half of residents don't have access to a car, so the Market installed bike racks, based on patrons' suggestions.
It supports and empowers first-time small business owners. Every vendor is required to take out a small business loan to help build their credit, and every one of them is on time or ahead of schedule with repayment. Several vendors have outgrown their space in the market and have opened stand-alone stores elsewhere in Syracuse — fulfilling their own dreams and creating opportunities for other first-time business owners to launch at the Market. In addition to supporting its own vendors, the Market offers low-cost business development courses to help other local entrepreneurs learn about the restaurant business and create business plans.
It's building up, not crowding out. Whenever you talk about community development, gentrification is a big worry. The beauty of Salt City Market and the surrounding area is that it hadn't previously felt like a "neighborhood" — instead, the Market has activated an underused part of the city. It sits at the intersection of multiple communities — the Near Westside, Southside, and Downtown — that all needed better access to high-quality, healthy foods.
Salt City Market is demonstrating that investing in challenging economic areas can be financially successful; improve access to healthy, affordable food; and build up a community. There's a lot cooking at Salt City Market — nourishing food, economic opportunity, and social progress. Be sure to stop by when you're in Syracuse.